The installed capacity of RE in the Asia-Pacific region is set for a major boost in the next five years, reaching 815 GW in 2025 from 517 GW this year
The installed capacity of renewable energy (RE) in the Asia-Pacific (APAC) region is set for a major boost in the next five years, to 815 gigawatts (GW) in 2025 from 517 GW this year, a new analysis by Rystad Energy shows. The frontrunner in this growth will be solar energy, whose regional capacity will nearly double to 382 GW from 215 GW in 2020, surpassing even the installed capacity of well-established onshore wind energy.
Onshore wind's installed capacity is also set to climb, to 341 GW from 266 GW in the next five years, while offshore wind is expected to jump to 51 GW from 9 GW currently. Lastly, storage, battery and hydrogen electrolyzer capacity is likely to expand to 42 GW from 26 GW.
"Renewable energy growth has led engineering, procurement, construction and installation (EPCI) service providers in the region and Asian fabrication yards to fast-track their energy transition plans to actively target low-carbon markets and tender for such contracts," said Lin Lin Goh, senior energy service research analyst at Rystad Energy.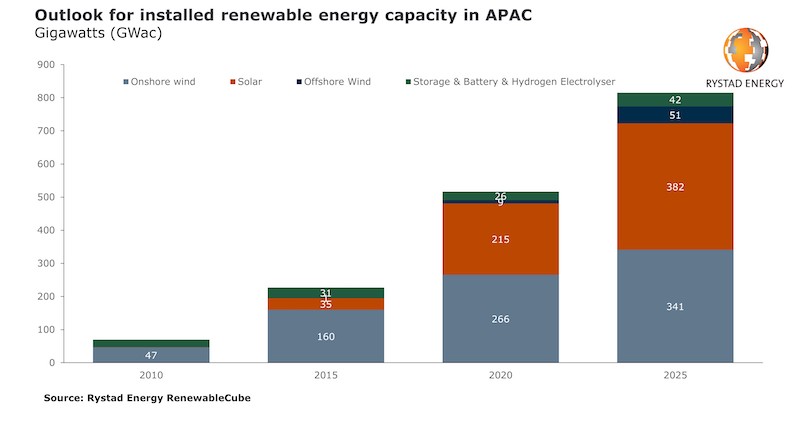 The analysis goes on to add that many national oil companies (NOCs) in the region are now following in the footsteps of their European counterparts and are starting their journey towards energy transition. In Malaysia, Petronas has announced that it will grow its presence within renewables and recently invested in a solar photovoltaic system for the residential and small- to medium-sized enterprises sectors in Malaysia.
China's three biggest NOCs – Petrochina, Sinopec and CNOOC – are also looking to diversify into wind and hydrogen power. In Vietnam, PetroVietnam has announced an ambitious target of 100 megawatt (MW) renewable capacity by 2025 and 900 MW by 2035, which would make the country the most promising market for offshore wind in Southeast Asia.
Some significant offshore wind projects on the cards in the Asia-Pacific region, excluding China, are Yunlin, Changfang and Xidao in Taiwan, Thang Long in Vietnam and Incheon in South Korea.
And following the demand from their customer base, many traditional oilfield service companies in the region have also started diversifying their offerings to cater to the energy transition. The most relevant sector for the EPCI companies to venture into within green energy is offshore wind construction and installation. Both oilfield and wind projects offshore have long project life cycles that require integrated project management on a massive scale, dealing with mammoth structures such as jackets, platforms and foundations.
Source : Sourenergy.com